UNO Executive Ergonomic Office Full Mesh Chairs is the perfect example of form and function in complete harmony.
UNO Full Mesh Office Chair is designed for aesthetic impact. The frame is a perfect balance of polished aluminium and black.
Encompassing all the qualities of ZERO Chair, with the added benefit of a redesigned mechanism, UNO Chair makes a statement in subtle beauty and body contoured ergonomics.
An engineered design that reflects form and functionality - the art of our technology redefines today's health-conscious work environment with more posture control and more support, personally configured.

The most outstanding features of the UNO Chairs are the following:

BAS (Back Automatic Supporting) System offers a full range support on the back:
- Unique Back-Revolving Supporting System
- Back Height Adjusting System
- Backrest Tilt System
- Lumbar Supporting System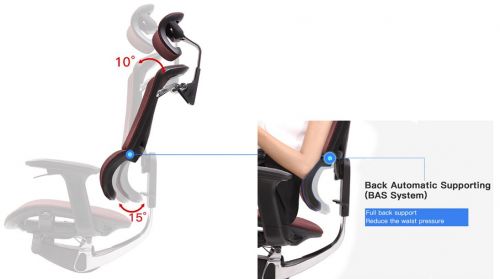 Paddle Shift Wire Control System - CONTROL ON THE FINGERS
Forget bending awkwardly and fumbling around to make adjustments to your chair.
Simply squeeze Hand Levers under the armrest cover to adjust to your preferred height(Right lever), or to lock and unlock the backrest tilt(Left lever).
It's simple and intuitive, as a Ergonomic Executive Chair should be.
This is what we called "CONTROL ON THE FINGERS", the most convenient and efficient way to adjust their sitting positions for the ultimate comfort.
This concept of the Gear Shifting Paddles of the Formula One racing cars bring convenient and efficient operation to drivers, which is a leap in the auto industry and make users can adjust the frequently-used functions in a simple and quick way without changing the sitting position within 0.32 seconds, which is 8 times faster than usual office chairs.